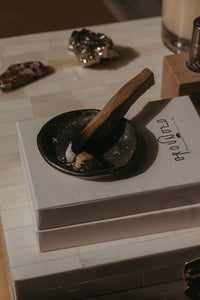 Grounded 1002
#stixandstones Palo Santo
Regular price
£18.45
Sale price
£14.20
Tax included.
---
Calming ~ Grounding ~ Cleansing

Inspired by the sense of calm felt when entering a high end spa, the moment of gratitude for the adjustments with essential oils in a yoga class, the respect felt for mother nature when sitting next to a roaring fire on a cold day, or embracing the mystical mood of Tulum when walking through the thick white smoke enveloping its surroundings, we would like to introduce our second product #stixandstones. 
Our mission at Grounded 1002 is to be a gateway for people being a better version of themselves.  So, for our second product, we have curated 3 varieties of organic, sustainably sourced, and easy to use Palo Santo. Coming from different regions of Peru and Ecuador, this batch is great for those new to 'smudging' or those looking to add high quality palo santo to their collection.  You will get over 100 doses of potent benefits with this batch of #stixandstones packaged in 2022.
The benefits of the main active compounds found in Palo Santo include :
Calming the mind & helping decrease anxiety levels.
Stress reduction.
Increased focus.
Anti-inflammatory and antimicrobial properties.
From a spiritual perspective, the shamans and spiritual community believe the smoke and oils do much much more.
The active compounds of Palo Santo include d-limonene and monoterpenes.  Both compounds offer a variety of scientifically backed therapeutic benefits.
What you get with this batch of #stixandstones :
Quantity / Size
Cut
Source
Two FINE sticks
Wild irregular cut

Piura Region of Peru. 

The Palo Santo trees in this region are exposed to frequent climatic changes.  The breeze from the Pacific Ocean, makes these sticks particularly fragrant.

One MEDIUM stick
Regular cut

Manabi Region of Ecuador.

The Palo Santo trees in this region enjoy a favourable climate.  The gentle temperature changes and proximity to the sea make this aroma fresh and balsamic.

One THICK stick
Wild irregular cut

Peru near the Ecuador border.

The Palo Santo trees in this region are grown in rocky soil surrounded with  harsh environmental conditions. This climate develops a large amount of resin within the wood, leaving an intense aroma.
You also receive reading material ;  including the history, spiritual beliefs, scientific properties, benefits, and directions of use for each style of stick.
The sticks are packaged in a recyclable cardboard drawer box.
Expect at least 100 doses from this #stixandstones batch.

All you need is some sort of flame to use the product. 
Organic : sustainably harvested, collected and treated (SERFOR Certified):
The branches have naturally fallen from the Palo Santo tree, with the average life cycle of each tree ranging from 70 - 90 years.
No toxic chemicals have been used on the trees or branches.
The fallen branches or trees have sat for at least 3 years before being treated. Why? So the oils accumulate within the wood.
This palo santo is 100% Bursera Graveolens, a strain of Palo Santo which is actively being protected and preserved.
Once collected, the wood is cut and packaged by hand by our suppliers.
Our suppliers guarantee high quality of Palo Santo by obtaining a "Smoke Analysis" quality certificate to ensure there are no harmful chemical additives when the wood is burned. 
The Roots of Palo Santo:
Used for centuries by shamans and saints, this tree is believed to have 'magical properties.'  Native to the coast South America and neighbouring regions, Palo Santo was used for anything from energy cleansing, for spiritual purification, for energetic protection, and even as an insect repellent. The wood was burnt and/or oils were extracted  and/or the wood was steeped into a tea for physical and emotional healing.  Whatever the purpose, Palo Santo was (and is) treated with respect and gratitude for its therapeutic and healing properties by shamans and saints.  In recent years, those seeking a spiritual connection started using the wood and now several commercial sellers deforest palo santo forests or spray toxic fragrance on this wood. This means the wood lacks the natural grounding properties.  In 2018, one strain of Palo Santo (Bunesia Sarmientoi) was declared as endangered. As science has been deciphering the benefits our ancestors have intuitively understood, the demand for this wood is increasing. At Grounded 1002, not only do we source from ethical suppliers, but we care about HOW the wood is burnt. This is how we #rockwithcare.  Please read the instructions included in your order for more details.
Why the name #stixandstones?
If you've engaged in any sort of therapy, you clearly know the rhyme 'sticks and stones' is far from the truth… and this product is a remedy when the words leave a lasting impact - whether the lingering sentiments have come from others or from yourself.  With each package offering at least 100 potent doses, #stixandstones is a variety pack to explore this easy to use 'holy wood to cleanse the mind, body, and soul.
This first batch, 2022 offers a taste of 3 forests from South America.  Once this sells out, we will curate different styles of Palo Santo for the next batch.
Why #stixandstones was chosen as the second product:

Our founder, Neeta has been using essential oils and a variety of incense products since childhood (not realising smudging was even a word).  Having had 2 major physical traumas over the last decade (2013 / 2018) which left several physical scars and marks, the mental imprint was even bigger.  In 2014, at a yoga retreat in Sayulita, Mexico one of the instructors used Palo Santo in a way she hadn't noticed before. Not long after, she started carrying Palo Santo sticks or lavender oil with her at all times.  She liked that she could discreetly light Palo Santo quickly to reduce any anxiety in crowds, calm nerves before public speaking engagements, use the smoke visually when setting an intention, or to feel grounded when the mind is racing. She felt this style of smudging set the mood for any restorative style activities like journaling, chanting, taking a bath, cooking, stretching, or any yin exercises. She found Palo Santo quickly became an essential in her 'kit' because of the ease of transport, instant benefits, and option of how fast or slow it can be used.    Aside from the aromatherapy and antimicrobial properties of Palo Santo, Neeta just liked how a tiny stick could offer so many doses...a little goes a long way.  When we say, 'mind body connection,' Palo Santo is an excellent example of how the connection is real.
A note from Neeta:  Although Palo Santo is easily my favorite 'smudging' tool, many other plants can be smudged (and should be).  Each plant offers different aromatherapy benefits.  Everything from dried basil, bay leaves, cinnamon sticks, sage, thyme, lavender, and pine needles can be smudged, boiled, or cold pressed for its benefits.  Grounded 1002 is a gateway for people being a better version of themselves.  I chose sustainably harvested Palo Santo as our second product because it is convenient, easy to use, and portable. But once you get used to using it, it doesn't mean you cant try others - just make sure any products you use are high quality (no added perfumes, toxins, fragrances, or chemicals - these defeat the purpose).